Shurtape Brings its Brands to LIFE on TV and Radio this coming Autumn in the UK
September 12, 2018 1:21 pm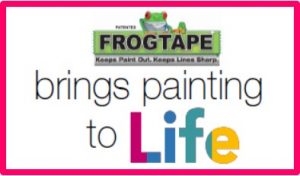 Shurtape has announced its Autumn marketing plans and is delighted to be investing heavily in national broadcast for the ninth year in a row – across all of its brands.
The leading adhesive tape manufacturer is targeting both mainstream and professional DIYers with campaigns that grab the most high profile and targeted spots across broadcast channels.
A new Frogtape campaign, which runs throughout October, is entitled 'Brings Painting to Life' and seeks to illustrate how easily consumers can create a whole host of creative paint finishes. It will include slots in ITV's prime morning shows 'Good Morning Britain' and 'This Morning'.
Shurtape's world-leading Duck Tape will run ads at the same time, giving both brands a huge reach at a key time of day, while its newest brand, T-Rex is the focus of a 'ferocious' campaign with talkSPORT, supplemented by social media and a unique cartoon strip campaign in trade channels, to target the professional builder audience.
Says Alan Murray, Shurtape UK Head of Marketing; "We're delighted to demonstrate our ongoing commitment to our trade customers, by investing in such high profile campaigns for almost a decade. We know what works and thanks to our extensive research and feedback from our audiences, we've been able to target even more directly for 2018, to help drive footfall and encourage considered and educated sales.
"All our messaging gives a clear reason to buy, with supporting activity including events, direct marketing and PR, to ensure the investment is maximised."
Categorised in: Uncategorised
This post was written by Lee Howes