Shurtape aims to inspire with biggest ad investment yet
March 2, 2018 4:14 pm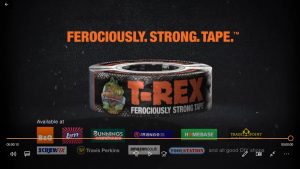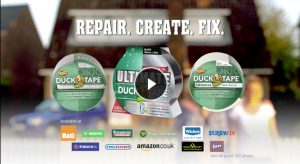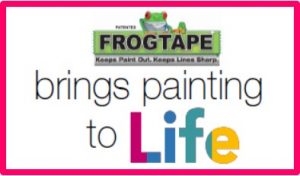 For the 9th consecutive year  a high profile advertising campaign for Spring is planned, to inspire homeowners and renters – and drive more traffic into stores.
All three of the company's leading brands are to be featured , with double the investment on Duck Tape® and FrogTape® signalling a real commitment to awareness, sales and industry growth.
A brand new Frog Tape ad will focus on how the product helps homeowners and renters improve their surroundings. It will run from March until the end of May alongside Duck Tape's ads, which focus on the wide range of leading Duck products.
The company's T-Rex ad, will continue to highlight the uses for its 'ferociously strong' all purpose and all weather tape.
The campaign is built around TV with ITV's prime daytime shows Good Morning Britain and This Morning, the campaigns will also include Channel 4, Sky, Dave, Absolute Radio, TalkSport and Heart FM.
Says Alan Murray, Shurtape UK Head of Marketing; "We are looking at reaching over 20 million households with these campaigns. Our tape is for Everyone and Everyday. Working with some of the UK's leading media channels means we can target different audience demographics, in the right context, at this key time of year.
"We'll be amplifying the ads with home interest media advertorials, in-store activity and social media programmes – and have sponsored the first ever National Home Improvement Week, to help inspire consumers with ideas and drive them into store to buy," concludes Alan. "As market leaders, we're delighted to push new ideas and help build the whole home improvement category."
Categorised in: Company News, TV news
This post was written by Lee Howes